I was reading a post the other day regarding Beyonce's performance during the Superbowl halftime show about how she was over-sexualized and how her show sent a bad message and how it was unnecessary, inappropriate and all around bad juju ~ bringing women down from where they should be as equals to mere sexual objects with her high heeled boots and her crotch thrusting dance.
Wow ~ I did not realize Beyonce was that powerful. What a gal!
It did not offend me as much as most, probably because I grew up in the Madonna era, where gyrating and cone boobs were the norm.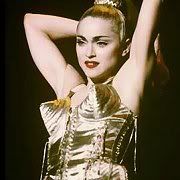 Madonna didn't make me feel like a mere sexual object then and she didn't make me want to go out and buy see-through netting and cone boob covers to wear at school, no more than Material Girl made me want to run out and find a sugar daddy.  She was a performer and, yes, her antics were out there and did not make sense to me ~ but, who cares? I liked her music and singing 'Like a Virgin' drove my mother crazy, so it was all good.
I figure girls now a days are at least as smart as I was and don't fall for it either.
So, I am reading the many comments on the blog post, when I come across several which talk about non-believers and Sodom and Gomorrah and how this is what happens when non-believers run rampant across the universe, or something like that.  They explain how non-believers or heathens or whatever are the reason for the declining morality of the world because if they have no faith then they must follow the devil himself.
Wait just a cotton pickin' minute.
Just because someone doesn't subscribe to a particular belief or any higher-being belief for that matter, does not mean that they have no morals.  That is not only an insult to 'non-believers', it is an insult to the believer because what they are saying is that the only reason a believer is moral is because a higher being requires it of them.  Left on their own, they are weak and corrupt and immoral.
What?
Here's the truth.
There are believers who are moral.
There are non-believers who are moral.
There are believers who are immoral.
There are non-believers who are immoral.
Them's the facts, ladies and gents.
How do I know?  I know because I have met those who fit into all of those categories at one time or another and chances are that you have too.
What do you think, my fine feathered friends? Do you need to believe in a higher power to be moral and good? Or can a non-believer also be moral and good? Did Beyonce's performance bother you? Did Madonna's cone boob covers puzzle you as much as it did me?